Tutorial: how to glue a straight transmission & motor mount in a mono hull
Here is a little tutorial on how to mount a transmission in a mono hull. Its only purpose is to explain the basic/standard method. Of course, it does not guaranty a good result, but it is a good start!
Feel free to copy and share these informations, but please, don't forget to include my name and my blog address. :)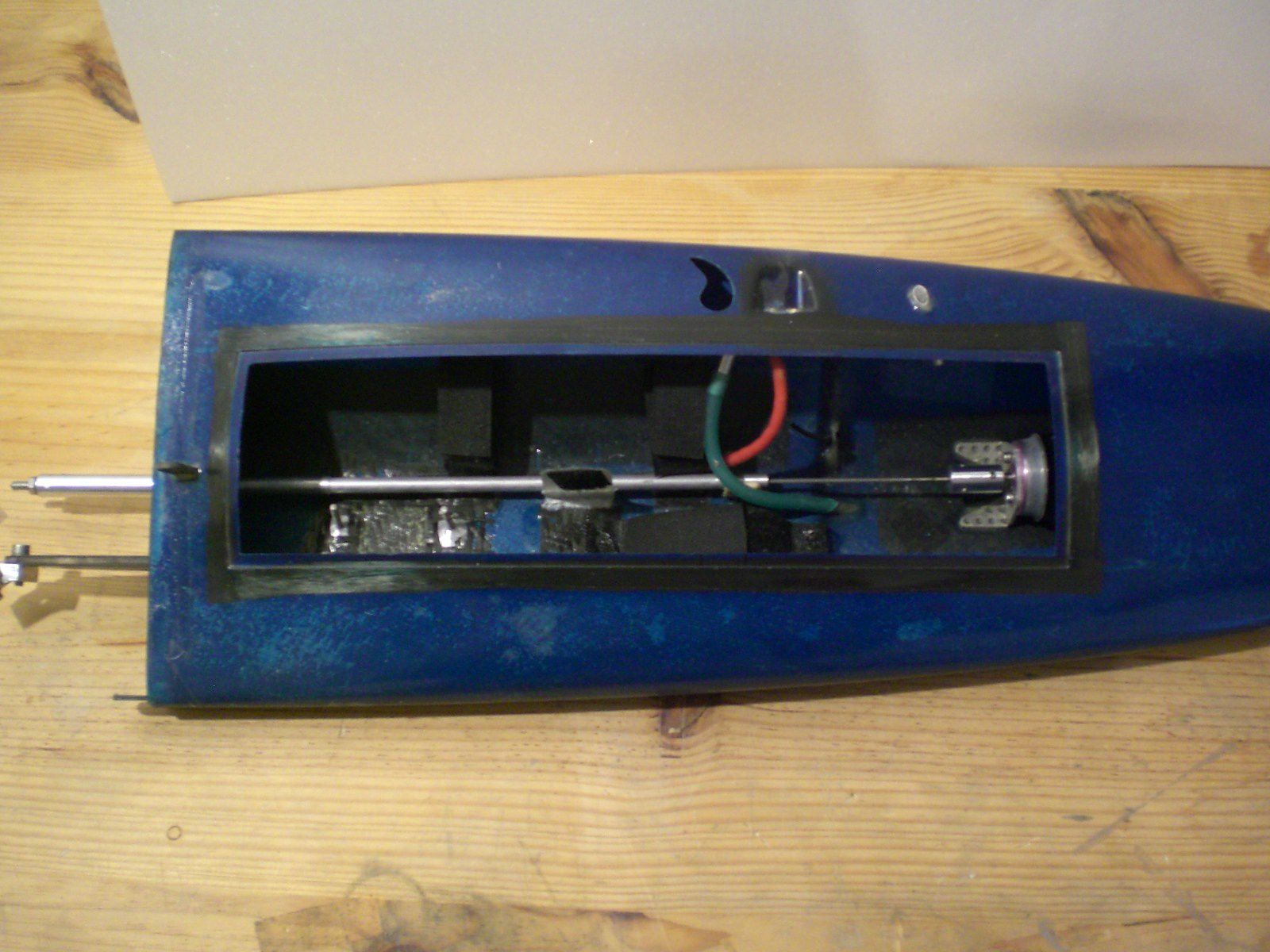 Usually on a mono hull, the motor is ahead the step. The distance between the motor and the step? Near nothing for entertainment, up to 10% of the hull length if you seek for more stability.
Here is the classic position of a propeller on a mono hull powered by a brushless and some Lipos batteries. You will notice an angle between the shaft and the table: it is useless to measure it. As long as the motor and the propeller are well placed and the shaft is straight, I assume the angle will be good.
So, once you know all these things, how to proceed?
I really recommend you to glue both, transmission and motor mount at the same time.
The hardest part is to drill the hole at the back of the boat: To do that properly, I suggest you to drill first a hole of the diameter of your shaft (2mm if your drive is a 2mm piano wire). Do it where you think it will be. Don't worry, it doesn't really matter if you're wrong, since you will drill a 2mm hole, and the final hole will be something like 8mm. Then place the shaft, and the motor with its support and the motor coupler in the boat (Note: don't forget the motor water cooling. About the support: I suggest you to use an adjustable one or something to measure, because it is important for your motor to be as low as possible, it should touch the depth of the hull) Then lay the boat on a table as shown before and check it! Modify this little hole until you find the right place. Then enlarge the Hole and you're done! ;)
To glue it, it is recommended to use a strong epoxy glue, something like a standard araldite. Don't forget to prepare both surfaces.
If you don't have any clutch, there is one last step: glue your tube in two points. Your tube is only glued at the rear of the boat, and this is clearly not enough, you also need to fix the front part to the hull. For this, a simple, little sheet of a glass fiber or carbon fiber plate is enough.
If you have any question, don't hesitate to ask here, or to contact me ;)
Partager cet article